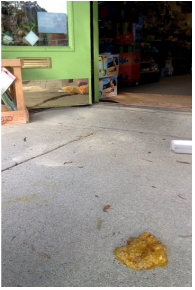 This was the grossest class ever! We found it interesting that many things we
consider gross have to do with our bodies - like farting and burping and vomiting. But without these things, we'd be in trouble, biologically speaking! For our project we made fake vomit. If your fake vomit didn't set completely and stayed a little soft and gooey, here is the recipe we used if you want to
try again.

Fake Vomit Recipe

(1) First, put together the undigested food that is being vomited up. Mix together in a bowl:
1/2 cup oatmeal
2 tablespoons flour
1/4 tablespoon cocoa powder

(2) Now you want to make some bile. This super strong alkaline chemical is what helps you digest your food in your stomach.

In a separate cup, mix together:
1/4 cup of warm water
1 packet of gelatin (We used clear gelatin)
2-3 drops of yellow food coloring

Stir up the gelatin and water until all the gelatin is dissolved.


(3) Repeat Step (2) in a separate cup and set this second cup aside for now.


(4) Then pour the first cup of gelatin mix into the bowl with the undigested food and mix everything together until well blended. If necessary, add a little more water, but be careful not to add too much or it will become runny.

The mixture should start to thicken as the gelatin cools and sets. Dump it onto a plate. Pour the second cup with the gelatin mixture over the pile. Let it run down and off the edges.

Now put your plate in the fridge. The gelatin should set enough to peel the whole thing off the plate within an hour or so.

Place it on your front step or sidewalk to surprise your friends!